Step 1: Understand Self-Submit
At times, due to occasional technical challenges we may encounter difficulties in submitting your rent payment automatically. In such cases, we will promptly notify you of a service issue via text, email, and/or push notification. In this case, we'll ask you to complete the rent payment process yourself using a Flex-funded payment method.
Rest assured, even with self-submit, you can still split your rent into two payments. The only difference is that instead of Flex submitting your rent to your property automatically, you will manually submit the payment through your property's payment website using a Flex-funded payment method, which can be either a virtual bank account or a virtual debit card.
Step 2: Access the Flex-Funded Payment Method
Accessing the Flex-funded payment method in your app is quick and easy. Follow these steps to get started:
Click on "View details" from your home screen to access the service issue.
Initiate the self-submit process and confirm your choice to use self-submit, which will grant you access to the Flex-funded payment method.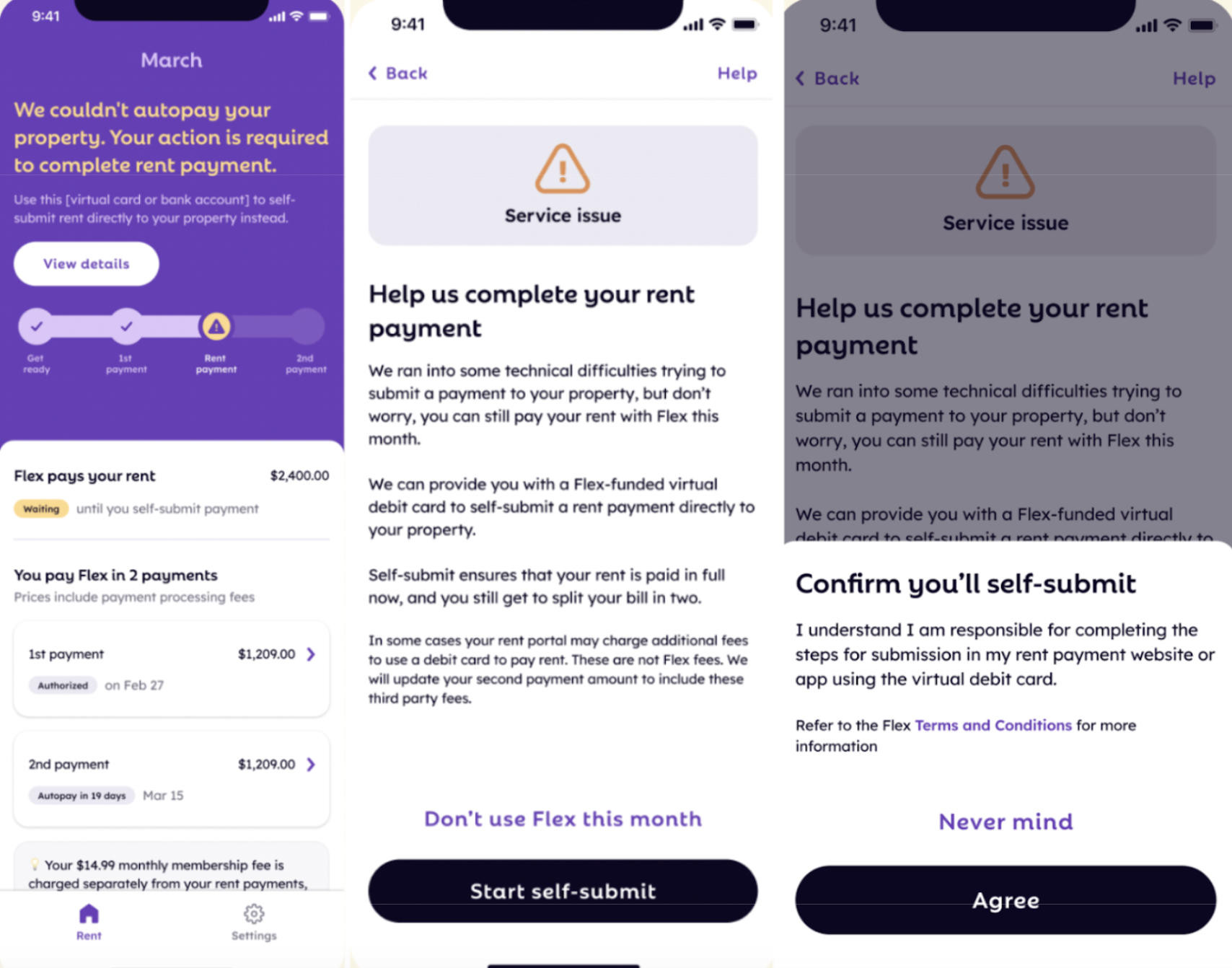 Step 3: Self-Submit Your Rent
Once you've opted to self-submit and gained access to your Flex-funded payment method, you're ready to proceed with self-submitting your rent.
Add the Flex-funded payment method as a new payment option on your property's payment website using the provided information:
Bank name: Blue Ridge Bank
Account type: Personal Checking
Name on account: [YOUR NAME]
Billing address: [YOUR ADDRESS]
Phone number: 646-960-3251
Email address:

payments@getflex.com
Important Notes:
Pay the full rent amount using the Flex-funded payment method. Exercise caution and submit the correct amount, as Flex will charge the amount used, and is not responsible for any fees incurred due to incorrect submissions. The virtual debit card or bank account may only be used to pay your rent.
If you share rent with roommates, only pay your portion of the rent bill.
Submit your rent payment before 8 pm EST on the 5th of the month to ensure it is processed successfully. Any self-submissions after this time will be rejected.